At Lucky Devil…
We want to ensure you have the most comfortable piercing experience. If you have any questions, feel free to ask our knowledgeable piercing artists.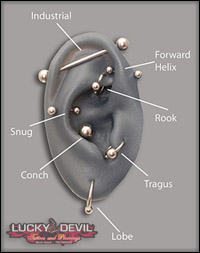 Contact each shop for any prices regarding specific piercings. Remember to bring proper I.D. *Prices are subject to change without notice.
After your piercing heals, you can change out the initial jewellery with something from one of our many suppliers. The material you choose is important because your skin will react differently to different materials. The degree to which a material is acceptable to the body is known as 'biocompatibility'.
Highly biocompatible materials do not cause irritation and are suitable for prolonged wear, whereas materials with lower biocompatibility may only be suitable for occasional wear. Everyone reacts differently to these materials, so it is important to know the difference between them and which ones will be suitable for your piercings.
We carry and can order body jewellery from a range of suppliers: