Check out our new digs! We are growing! We have opened the doors in two new locations to better serve your tattoo and piercing needs in.
Located at 81 Mississauga St East in beautiful Orillia, we provide the same professional and clean experience that you've come to expect from Lucky Devil. Come in and check it out.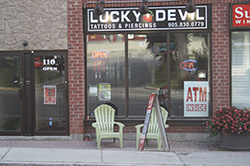 To serve you better we have acquired Lucky Devil in Newmarket. Our THIRD location! Located at 110 Main Street South. We look forward to meeting your tattoo and piercing needs in the York Region. Come on in and see the new shop!