MITCH McCOURT
tattoo artist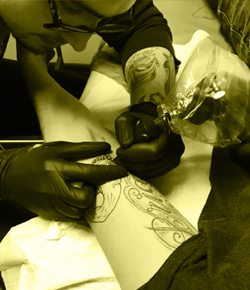 Tattoo Aftercare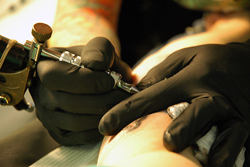 GENERAL INSTRUCTIONS

• No soaking in the bath and no swimming until scabs are gone. Showers are fine.

• Do not expose your tattoo to direct sunlight. Tanning and sunbathing are not to be considered during the healing process.

A new tattoo has no sun blocking capabilities and will sunburn in as little as 5 minutes, resulting in scarring and colour loss. Do not put sun block on your tattoo until it is fully healed.

• Do not pick your tattoo! Usually a scab will form, but do not pick or scratch it. It is normal for the tattoo to get quite itchy during the final stages of healing. Picking or scratching the tattoo will cause scarring and colour loss.
Care of Oral Piercings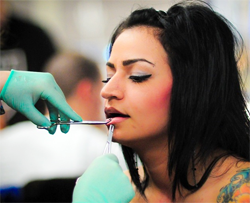 • Suck on ice cubes for the first 24-48 hours to reduce swelling.

• Advil or Midol may be taken to help with swelling as well.

• Avoid dairy, spicy foods, alcohol and sexual contact as these will complicate the healing process and cause infection.

• Check the beads of your jewelry frequently to make sure they are tight.

• Each time you eat, drink or smoke you MUST rinse your mouth with antibacterial mouthwash.
ORAL B (alcohol free) or ORIGINAL LISTERINE (diluted 50/50 with water) are the most effective.

• Should you have Labret, Lip, Medusa, Marilyn, or Madonna piercing, cleans as above for inside of mouth and treat as a regular piercing outside of mouth.