Care of Oral Piercings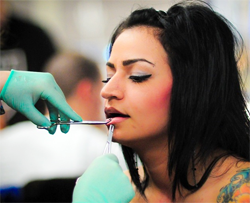 • Suck on ice cubes for the first 24-48 hours to reduce swelling.

• Advil or Midol may be taken to help with swelling as well.

• Avoid dairy, spicy foods, alcohol and sexual contact as these will complicate the healing process and cause infection.

• Check the beads of your jewelry frequently to make sure they are tight.

• Each time you eat, drink or smoke you MUST rinse your mouth with antibacterial mouthwash.
ORAL B (alcohol free) or ORIGINAL LISTERINE (diluted 50/50 with water) are the most effective.

• Should you have Labret, Lip, Medusa, Marilyn, or Madonna piercing, cleans as above for inside of mouth and treat as a regular piercing outside of mouth.